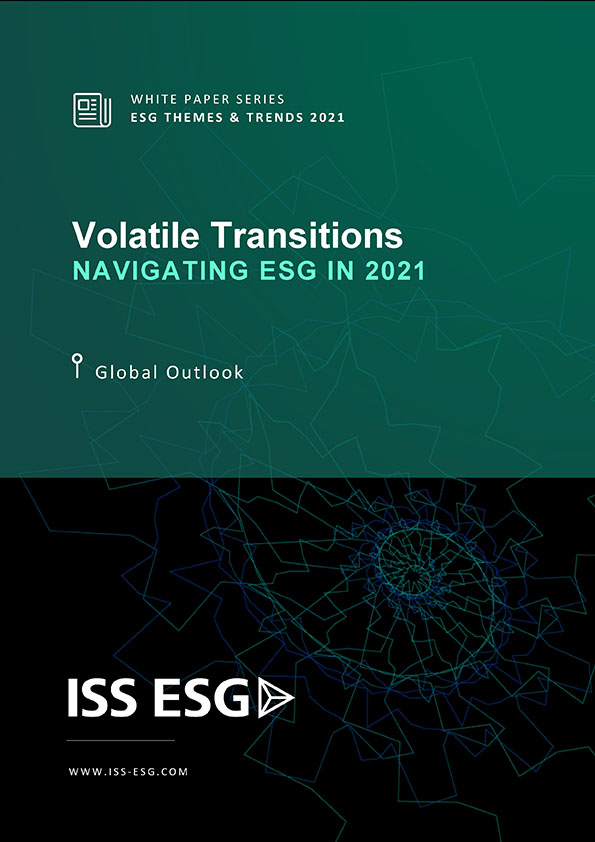 ISS ESG WHITE PAPER SERIES: ESG THEMES & TRENDS 2021
Volatile Transitions: Navigating ESG in 2021
GLOBAL EDITION
FEBRUARY 10, 2021
KEY TAKEAWAYS:
The forecast recession and "long ascent" of global economic recovery after COVID-19 will require a strong commitment and decisive action from financial markets.
While the global economic downturn has been a time of significant stress for all investors, the willingness of international governments to couple stimulus programs with sustainability objectives offers a clear opportunity for responsible investors to play a leading role in the recovery.
Regulatory pressure will be a key driver for responsible investment practices in 2021, with significant initiatives in the European Union coming into force, and governments in Asia making strong commitments to Net Zero targets.
While the term ESG is broadly accepted in responsible investment markets, the range of issues that responsible investors are called upon to consider daily continues to expand. The topics covered in this paper are framed in three broad conceptual groupings: Planetary Boundaries, Inclusion and Stewardship.
ISS ESG has identified 10 of the key global trends that we believe responsible investors will be focusing on through 2021, both in terms of impacts on portfolio risk/returns, and in terms of time spent managing policies and stakeholder relationships.
This year we have also prepared a regionally-focused paper for each of the Americas, EMEA, Asia and Australia/New Zealand, highlighting risks about which the local teams in each region are speaking with their own networks.