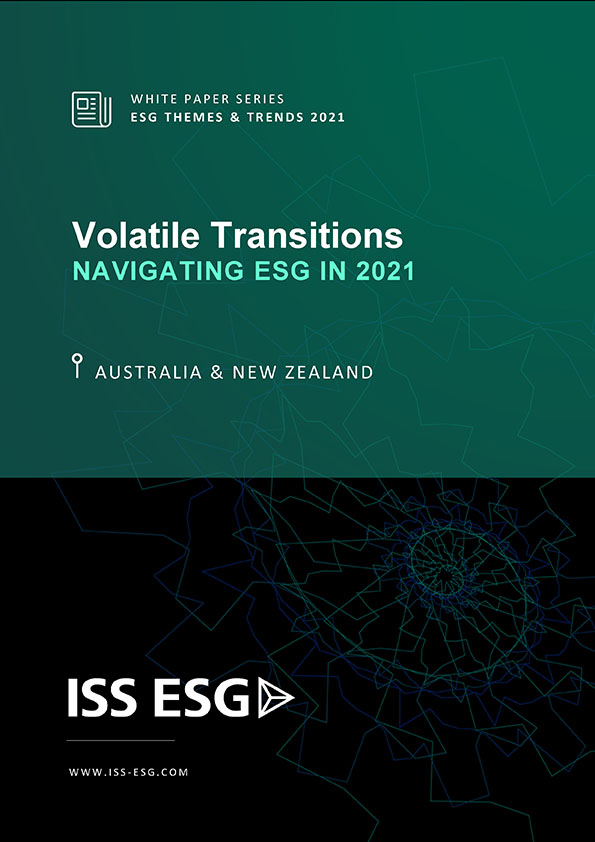 ISS ESG WHITE PAPER SERIES: ESG THEMES & TRENDS 2021
Volatile Transitions: Navigating ESG in 2021
AUSTRALIA & NEW ZEALAND EDITION
FEBRUARY 10, 2021
KEY TAKEAWAYS
Investors in Australia and New Zealand continue to lead in ESG integration, whilst corporate ESG disclosure in the region lags behind global counterparts.
Investor initiatives have acted decisively on a range of climate change and ESG risks in the absence of commitment by the Australian government towards the Paris Agreement and other areas.
Mandatory climate change reporting will be required by all publicly listed companies and financial institutions operating in New Zealand from 2021, in a world-leading move.
TOPIC 1: The disaster at Juukan Gorge will drive more conversations about diversity in 2021. Are investors prepared to deal with the hard questions that will be coming up about the conflict between cultural heritage and resource extraction?
TOPIC 2: Portfolio disclosure has long been heralded as an opportunity for responsible investment, through increased pressure on institutional investor from members. Will 2021 be the year when this initiative is finally carried through? Investors should be preparing for transparency in any case.
TOPIC 3: While discussions about water occupy community discourse, the implications of regulatory action on this space are less often considered by investors. In this topic, ISS ESG research into water risk management identifies those sectors most exposed, and suggests potential corporate and investor actions.
TOPIC 4: Buy Now Pay Later (BNPL) companies have burst onto the scene in recent years, offering consumers an alternative to credit cards, but also potentially exposing a younger and less financially sophisticated demographic to new financial risks.