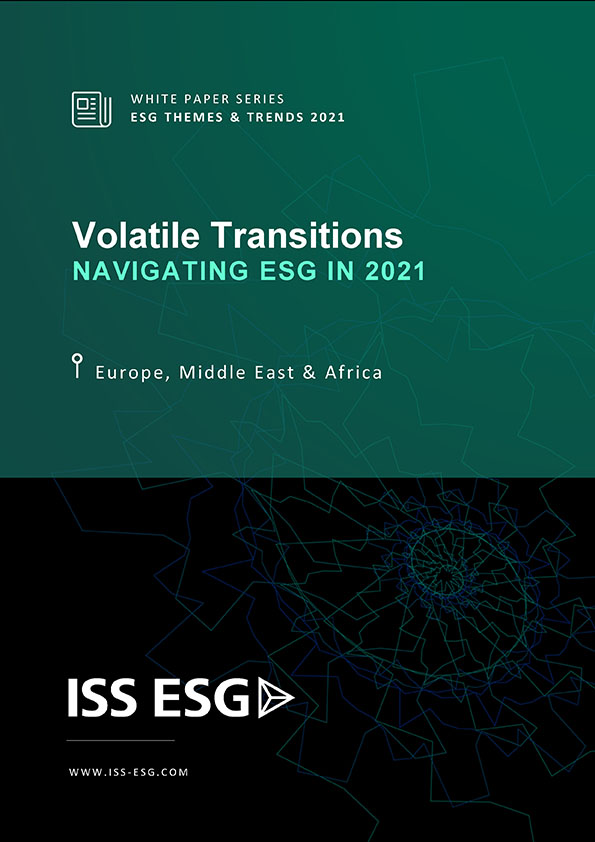 ISS ESG WHITE PAPER SERIES: ESG THEMES & TRENDS 2021
Volatile Transitions: Navigating ESG in 2021
EMEA EDITION
FEBRUARY 10, 2021
KEY TAKEAWAYS
EU regulation is likely to be the primary driver of action on responsible business in the EMEA region in 2021.
There is a gradual uptake of ESG-investment in the Middle East, with release of ESG-indexed funds in Saudi Arabia and on the Arab Federation of Exchanges.
Emissions reductions and investment into renewables remains a key focus for countries in the Middle East relying on expansion of green bond market.
Growth in sustainable and green bonds in Africa is coupled with signals that there is momentum for a 'green recovery' for the continent, with the implementation of revised Equator Principles and Mining Principles expected to lift the ESG performance of mining companies in Africa and worldwide.
TOPIC 1: The EU Sustainable Finance Disclosure Regulation is set to significantly improve investor disclosure on the integration and consideration of ESG risks and impacts in portfolios and products, with impacts extending throughout the EMEA region.
TOPIC 2: Human rights disclosure regulation for corporates will lead to an improvement in the quality of information available to responsible investors.
TOPIC 3: Global efforts to develop a consistent approach to biodiversity were impacted by COVID-19 in 2020 – 2021 looks to be year when investors will really need to pay attention to this topic, with a particular focus on emerging regulatory action in the EMEA region.