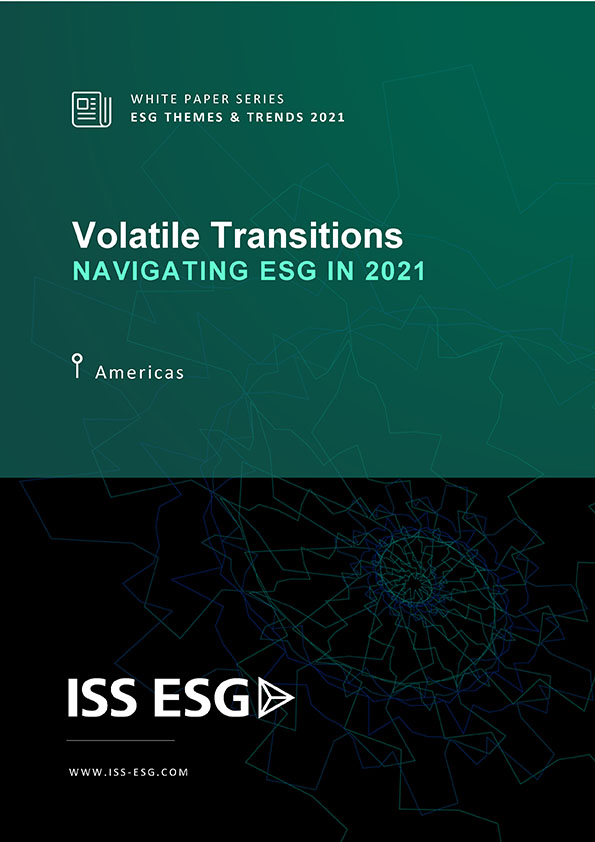 ISS ESG WHITE PAPER SERIES: ESG THEMES & TRENDS 2021
Volatile Transitions: Navigating ESG in 2021
AMERICAS EDITION
FEBRUARY 10, 2021
KEY TAKEAWAYS
In 2020, COVID-19 raised awareness of human impacts on biodiversity, and the #blacklivesmatter movement heightened the urgency of action on diversity and inclusion – these movements won't be going away in 2021.
Deforestation in the Amazon rainforest and fires in California continue to be key topics.
The Biden presidency in the U.S. is anticipated to facilitate greater ESG-investment initiatives, regulatory action, and infrastructure support.
Green finance and the capacity to bolster renewables are key ESG opportunities in the Latin American sub-region.
TOPIC 1: ESG Funds/ETFs continue to grow in total AUM as the Americas begin to become more ESG aware.
TOPIC 2: 2021 sees the stage set for the U.S. to move from climate pariah to leader.
TOPIC 3: Links with COVID-19 drive an increasing awareness of the importance of biodiversity, and 2021 sees new global initiatives in this space.
TOPIC 4: Diversity and inclusion are emerging issues for responsible investors in the U.S. in 2021, and the good news is that good practices in this space are linked with positive portfolio outcomes, and that there are plenty of tools to help investors achieve their goals.