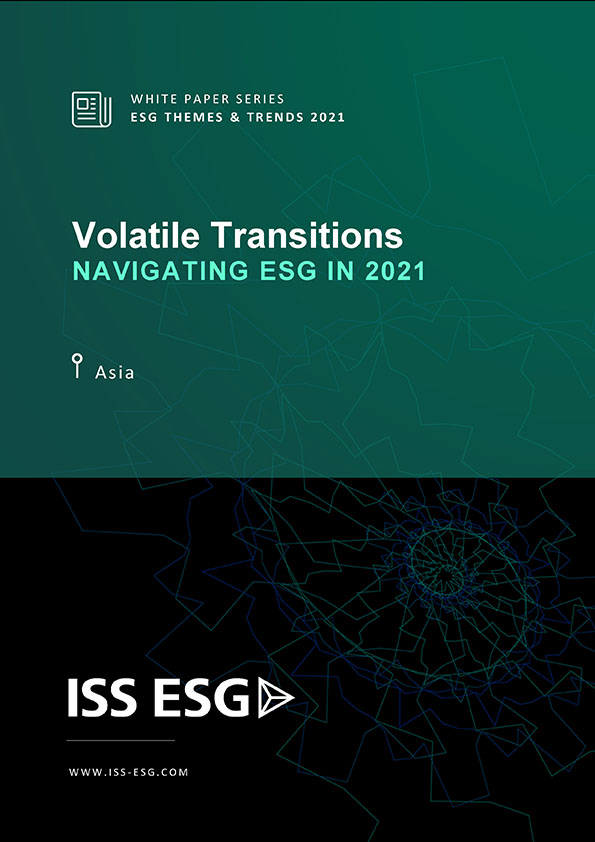 ISS ESG WHITE PAPER SERIES: ESG THEMES & TRENDS 2021
Volatile Transitions: Navigating ESG in 2021
ASIA EDITION
FEBRUARY 10, 2021
KEY TAKEAWAYS
Labour and human rights risks emerging from COVID19 impacts on manufacturing supply-chains are urgent short- to medium-term risks in the region.
A renewed global focus on the 'S' element in the ESG spectrum is likely to lead to increased attention on the regional approach to diversity. Proxy voting practices may be used to influence companies.
The potential for a 'green recovery' from COVID19 is indicated through bond issuances and plans for green financing in several countries.
TOPIC 1: Legislative and regulatory commitments to ESG disclosure in several jurisdictions are anticipated to encourage mainstreaming and standardisation of ESG-aligned investment and reporting.
TOPIC 2: The Chinese Government's latest Five-Year Plan is likely to contain ambitious climate change targets and further legislative commitments are expected in 2021.
TOPIC 3: The management of supply chain risks will be a key element in whether or not the region can 'build back better'.
TOPIC 4: Traditionally a leader on many ESG-related fronts, Japan's struggles in the field of diversity are likely to come to a head in 2021, as global investors exert increasing pressure on companies to improve their practices.