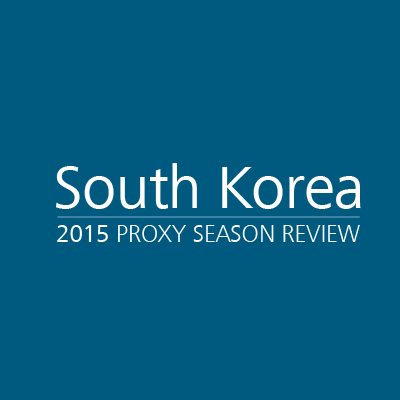 Abstract
Ninety-eight percent of all listed companies in Korea held their AGMs in March; a historic high in monthly AGM concentration.
The shadow voting system – which allows companies to request that uninstructed shares registered with the Korea Securities Depositary (KSD) to vote in line with instructed shares – was slated to be abolished at the end of 2014. However, it was given a two-year extension for the election and/or removal of internal auditors and audit committee members, applicable to companies that adopt electronic voting and solicit proxies from all shareholders.
The 2012 amendment of the Commercial Act granted boards the authority to ratify financial statements and dividend distribution without shareholder approval, contingent upon meeting two conditions, an unqualified auditor's report and a unanimous consent by the internal auditor or audit committee members. The number of companies under ISS coverage that exercise this board authority continues to rise. In 2015, 51 companies ratified their financial statements and income distribution by board resolution, and an additional 46 companies announced in their meeting notices the respective board's intention to withdraw the agenda at or before the meeting date contingent upon fulfilling the two statutory conditions.
On Nov. 20, 2014, the Financial Services Committee introduced "The Corporate Governance Code for Financial Institutions" to provide guidelines on recommended corporate governance practices on a comply-or-explain basis.