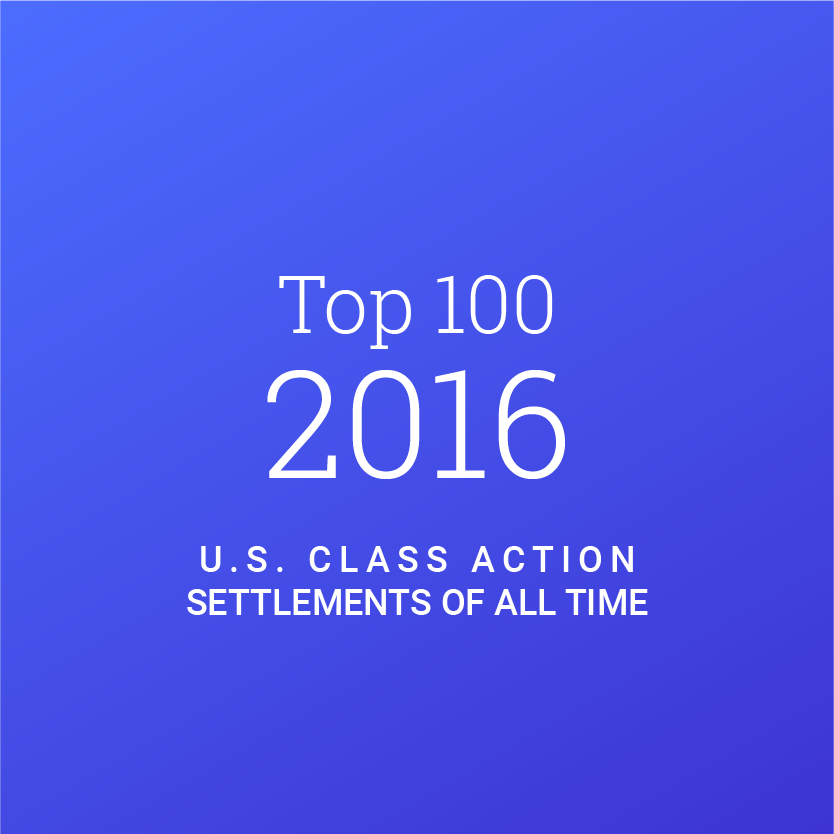 Brief
Securities class action settlements in the United States (U.S.) for calendar 2016 totalled 137 approved settlements, remaining steady since the prior year. Of the 137 settlements, Securities Class Action Services LLC ("SCAS") recorded 64 in the second half of the year compared with 73 in the first half.  Of the 64 settlements during the last half of 2016, six were large enough to be included in SCAS' Top 100* list of settlements with a total approved disbursement of USD $2.9 billion. The six settlements were:
Caremark, Rx, Inc. f/k/a MedPartners, Inc.
Genworth Financial, Inc. (2014) (E.D.Va.)
Household International, Inc. (N.D. Ill.)
Bank of America Corporation (2011) (MERS and MBS)
Pfizer, Inc. (2004)
MF Global Holdings Ltd. (partial settlement with the Senior Notes Underwriter Defendants)
Of the above six, five were filed in U.S. Federal Courts, while one was filed in U.S. State Court.   Notable characteristics of the six these companies include:
Two were related to the companies' stock offerings;
One was related to the company's merger and acquisition transaction;
Five alleged violations of Rule 10b-5 of the Securities and Exchange Act of 1934 (Employment of Manipulative and Deceptive Practices);
Two alleged violations of the Securities Act of 1933 (Civil Liabilities on Account of False Registration Statement);
Four alleged violations of Generally Accepted Accounting Principles ("GAAP");
One company filed for bankruptcy; and
Two are listed in the S&P 500 Index.
As it relates to lead or co-lead counsel, among the top 100 settlements to include figures for calendar 2016, Bernstein Litowitz Berger & Grossmann tops the list with 35 settlements, followed by Robbins Geller Rudman & Dowd with 17 settlements.
In closing, 12 of the top 100 settlements were in 2016, resulting in the largest approved settlement fund of any single year.