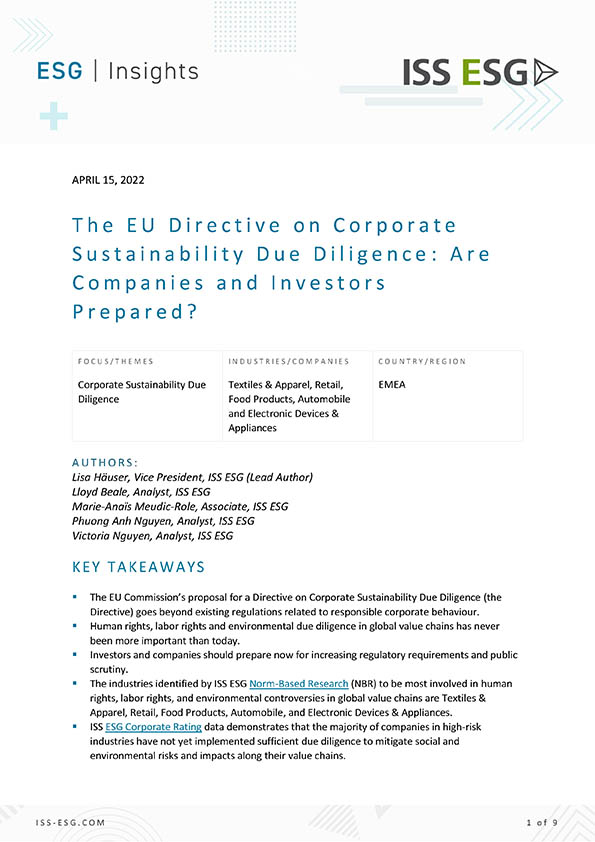 The EU Directive on Corporate Sustainability Due Diligence: Are Companies and Investors Prepared?
APRIL 18, 2022
KEY TAKEAWAYS
The EU Commission's proposal for a Directive on Corporate Sustainability Due Diligence (the Directive) goes beyond existing regulations related to responsible corporate behaviour.
Human rights, labor rights and environmental due diligence in global value chains has never been more important than today.
Investors and companies should prepare now for increasing regulatory requirements and public scrutiny.
The industries identified by ISS ESG Norm-Based Research (NBR) to be most involved in human rights, labor rights, and environmental controversies in global value chains are Textiles & Apparel, Retail, Food Products, Automobile, and Electronic Devices & Appliances.
ISS ESG Corporate Rating data demonstrates that the majority of companies in high-risk industries have not yet implemented sufficient due diligence to mitigate social and environmental risks and impacts along their value chains.