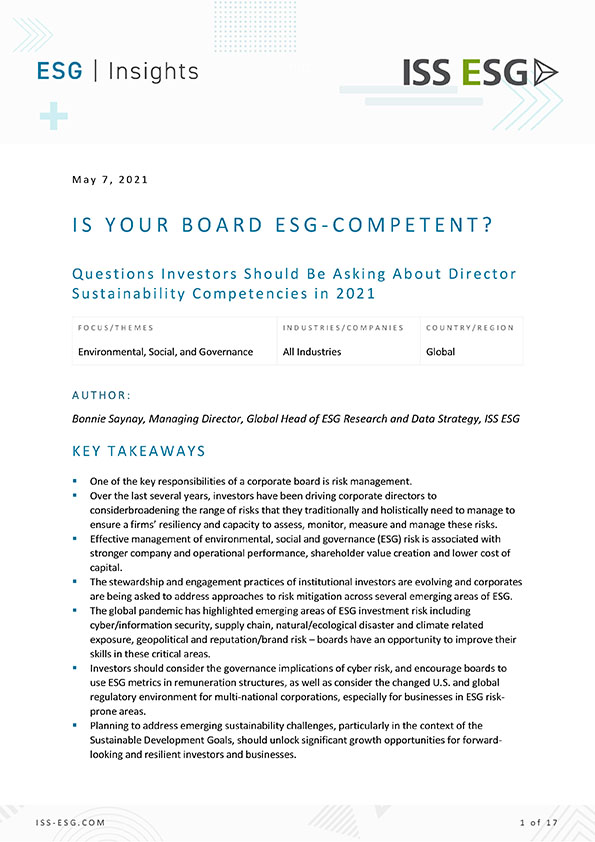 Is Your Board ESG-Competent? Questions Investors Should Be Asking About Director Sustainability Competencies in 2021
MAY 7, 2021
KEY TAKEAWAYS:
One of the key responsibilities of a corporate board is risk management.
Over the last several years, investors have been driving corporate directors to consider broadening the range of risks that they traditionally and holistically need to manage to ensure a firms' resiliency and capacity to assess, monitor, measure and manage these risks.
Effective management of environmental, social and governance (ESG) risk is associated with stronger company and operational performance, shareholder value creation and lower cost of capital.
The stewardship and engagement practices of institutional investors are evolving and corporates are being asked to address approaches to risk mitigation across several emerging areas of ESG.
The global pandemic has highlighted emerging areas of ESG investment risk including cyber/information security, supply chain, natural/ecological disaster and climate related exposure, geopolitical and reputation/brand risk – boards have an opportunity to improve their skills in these critical areas.
Investors should consider the governance implications of cyber risk, and encourage boards to use ESG metrics in remuneration structures, as well as consider the changed U.S. and global regulatory environment for multi-national corporations, especially for businesses in ESG risk-prone areas.
Planning to address emerging sustainability challenges, particularly in the context of the Sustainable Development Goals, should unlock significant growth opportunities for forward-looking and resilient investors and businesses.