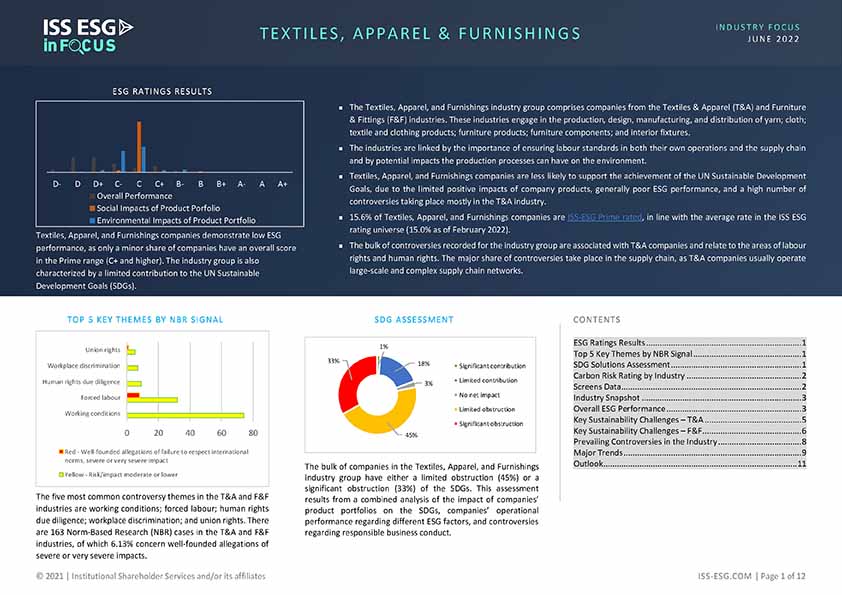 InFocus: Textiles, Apparel & Furnishings
JUNE 10, 2021
The Textiles, Apparel, and Furnishings industry group comprises companies from the Textiles & Apparel (T&A) and Furniture & Fittings (F&F) industries. These industries engage in the production, design, manufacturing, and distribution of yarn; cloth; textile and clothing products; furniture products; furniture components; and interior fixtures.
The industries are linked by the importance of ensuring labour standards in both their own operations and the supply chain and by potential impacts the production processes can have on the environment.
Textiles, Apparel, and Furnishings companies are less likely to support the achievement of the UN Sustainable Development Goals, due to the limited positive impacts of company products, generally poor ESG performance, and a high number of controversies taking place mostly in the T&A industry.
6% of Textiles, Apparel, and Furnishings companies are ISS-ESG Prime rated, in line with the average rate in the ISS ESG rating universe (15.0% as of February 2022).
The bulk of controversies recorded for the industry group are associated with T&A companies and relate to the areas of labour rights and human rights. The major share of controversies take place in the supply chain, as T&A companies usually operate large-scale and complex supply chain networks.