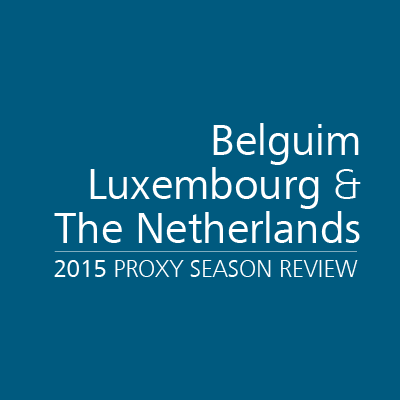 Abstract
Many so-called "cross-market companies" increasingly choose the Netherlands as their country of incorporation but are listed elsewhere, and fuel the governance debate, especially with regard to shareholder rights and antitakeover mechanisms.
While gender diversity on boards in both the Netherlands and Belgium is increasing and moving toward legal thresholds, Luxembourg, without further legal thresholds or best practice provisions, lags behind in the area of board diversity.
In Belgium, shareholder concern expressed by negative voting against antitakeover mechanisms has been notable, resulting in fewer companies requesting shareholder approval to introduce antitakeover devices, and in fewer companies extending such authorities, where they exist.
The average level of support for say-on-pay in Belgium increased this year by 5 percentage points to 83 percent. However this continues to lag behind the average level of support for remuneration-related items in the Netherlands in 2015, at approximately 93 percent.