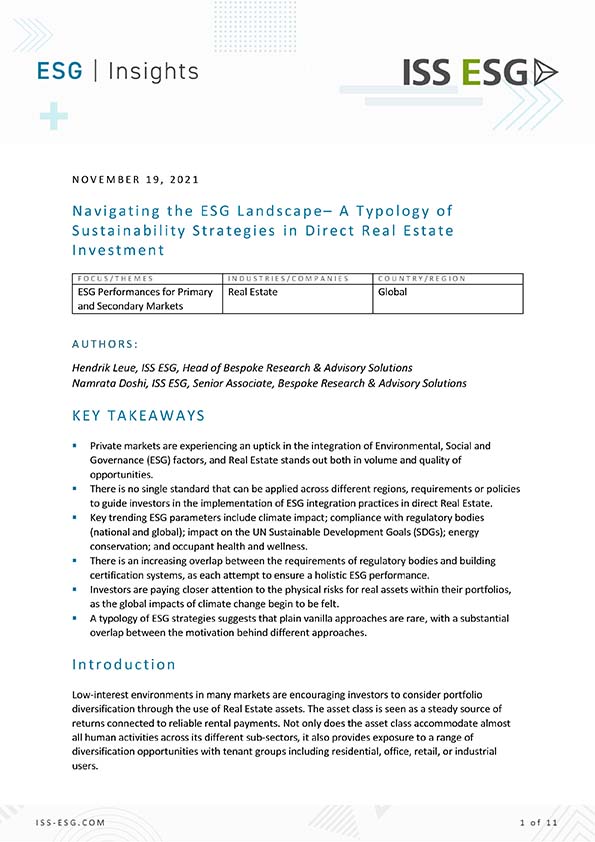 Navigating the ESG Landscape
A Typology of Sustainability Strategies in Direct Real Estate Investment
NOVEMBER 19, 2021
KEY TAKEAWAYS
Private markets are experiencing an uptick in the integration of Environmental, Social and Governance (ESG) factors, and Real Estate stands out both in volume and quality of opportunities.
There is no single standard that can be applied across different regions, requirements or policies to guide investors in the implementation of ESG integration practices in direct Real Estate.
Key trending ESG parameters include climate impact; compliance with regulatory bodies (national and global); impact on the UN Sustainable Development Goals (SDGs); energy conservation; and occupant health and wellness.
There is an increasing overlap between the requirements of regulatory bodies and building certification systems, as each attempt to ensure a holistic ESG performance.
Investors are paying closer attention to the physical risks for real assets within their portfolios, as the global impacts of climate change begin to be felt.
A typology of ESG strategies suggests that plain vanilla approaches are rare, with a substantial overlap between the motivation behind different approaches.