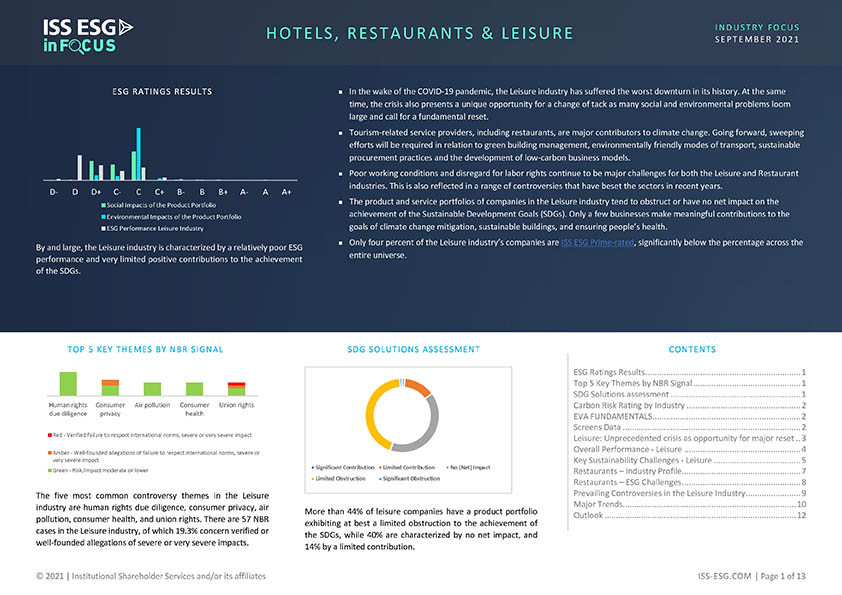 InFocus: Hotels, Restaurants & Leisure
SEPTEMBER 29, 2021
KEY TAKEAWAYS
In the wake of the COVID-19 pandemic, the Leisure industry has suffered the worst downturn in its history. At the same time, the crisis also presents a unique opportunity for a change of tack as many social and environmental problems loom large and call for a fundamental reset.
Tourism-related service providers, including restaurants, are major contributors to climate change. Going forward, sweeping efforts will be required in relation to green building management, environmentally friendly modes of transport, sustainable procurement practices and the development of low-carbon business models.
Poor working conditions and disregard for labor rights continue to be major challenges for both the Leisure and Restaurant industries. This is also reflected in a range of controversies that have beset the sectors in recent years.
The product and service portfolios of companies in the Leisure industry tend to obstruct or have no net impact on the achievement of the Sustainable Development Goals (SDGs). Only a few businesses make meaningful contributions to the goals of climate change mitigation, sustainable buildings, and ensuring people's health.
Only four percent of the Leisure industry's companies are ISS ESG Prime-rated, significantly below the percentage across the entire universe.