U.S. companies' adoption of proxy access bylaws – which give qualifying shareholders the right to nominate director candidates on the company's proxy ballot – in response to shareholder pressure has been the big corporate governance story of 2015 and 2016.
As of August 31, 39 percent of S&P 500 companies provide a proxy access right, and 264 U.S. companies in the Russell 3000 have adopted some form of proxy access; only 16 of these companies had adopted proxy access before 2015. By summer 2017, the majority of the companies in the S&P 500 may provide proxy access, along with 15-20 percent of the S&P 400 index.
The most noteworthy issues to surface this year involving proxy access include:
Shareholder scrutiny of the secondary features in proxy access bylaws, such as the treatment of loaned shares, nominees' potential conflicts of interest, and re-nomination restrictions; and
The SEC's Division of Corporation Finance's decision this summer to allow a shareholder proposal on the ballot at H&R Block to modify secondary features of the company's existing proxy access bylaw.
While much of the discussion around proxy access centers on its growing currency across corporate America, the secondary features that set important boundaries around the right are coming into clearer focus.
Consensus Reached on Basic Proxy Access Features
The basic features of proxy access bylaws are largely consistent – they generally enable a shareholder or a group of up to 20 shareholders who have held 3 percent of the company's stock for 3 years to nominate up to 20 percent of the board. This so-called 3/3/20/20 structure, which is similar in some respects to the standard the SEC set forth when it promulgated Rule 14a-11 mandating proxy access in 2010, has taken hold as the most widely adopted model. Only 16 companies that adopted proxy access bylaws in 2015 and 2016 have more restrictive basic features.
Bylaw Focus Shifts to the Detailed Parameters of the Proxy Access Right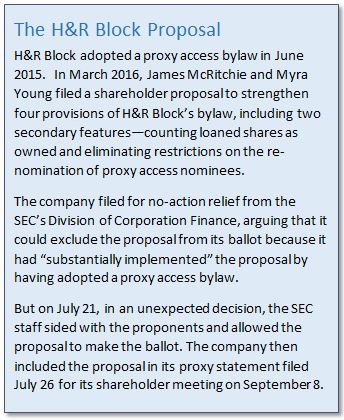 With a greater degree of conformity on the basic attributes, the focus is shifting to the bylaws' secondary features, such as the treatment of loaned shares, nominees' conflicts of interest, and re-nomination restrictions. An understanding of how these features can shape the right is critical for companies considering adopting a right, shareholders evaluating the reasonableness of companies' actions, regulators monitoring shareholder proposals, and journalists covering all of these developments.
These secondary features are on the verge of receiving more scrutiny than they ever have, in light of a decision in July by the SEC's Division of Corporation Finance to allow a shareholder proposal seeking to modify secondary features of H&R Block's existing proxy access bylaw on the ballot at its upcoming shareholder meeting (see inset). It's an important precedent that has ramifications for similar proposals at other companies, such as one recently submitted to Microsoft, and if the H&R Block proposal is successful at the ballot, expect to see a proliferation of these proposals.
We examined sixteen secondary bylaw features and grouped them into five categories – nuances of the basic features, managing potential conflicts of interest, the interplay between proxy access and proxy contests, the aftermath of a nomination, and general considerations.
The following is a chart briefly summarizing the prevalence of the secondary features.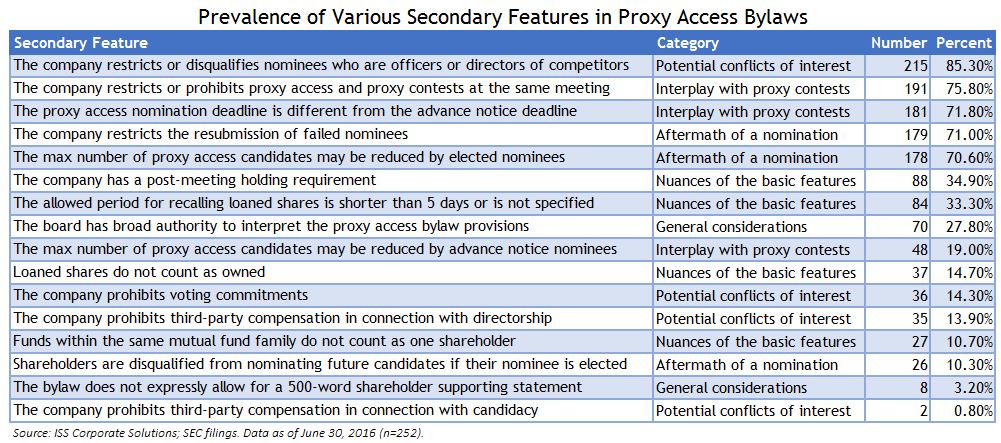 Most companies have inserted certain nomination and re-nomination restrictions in their proxy access bylaws, and have taken steps to avoid having proxy access and a proxy contest occur at the same meeting. A significant number of companies do not count loaned shares as owned, or make it difficult to recall loaned shares before nominating a candidate. Many companies also require that a nominating shareholder continue to hold shares after the shareholder meeting. Prohibitions on third-party compensation and voting commitments appear with some frequency.
Watch for these restrictions to become the new fulcrum of the ongoing proxy access discussions between shareholders and issuers, and we will continue to monitor these provisions – and shareholder proposals to address these provisions – as these defining features of the proxy access right evolve.–Alexandra Higgins and Peter Kimball, ISS Corporate Solutions
This article is adapted from the recently published Beyond the Basics: An In-Depth Review of the Secondary Features of Proxy Access Bylaws, a 34-page comprehensive resource on more than a dozen of the most important provisions in proxy access bylaws. Please contact your account manager for information on obtaining the paper.