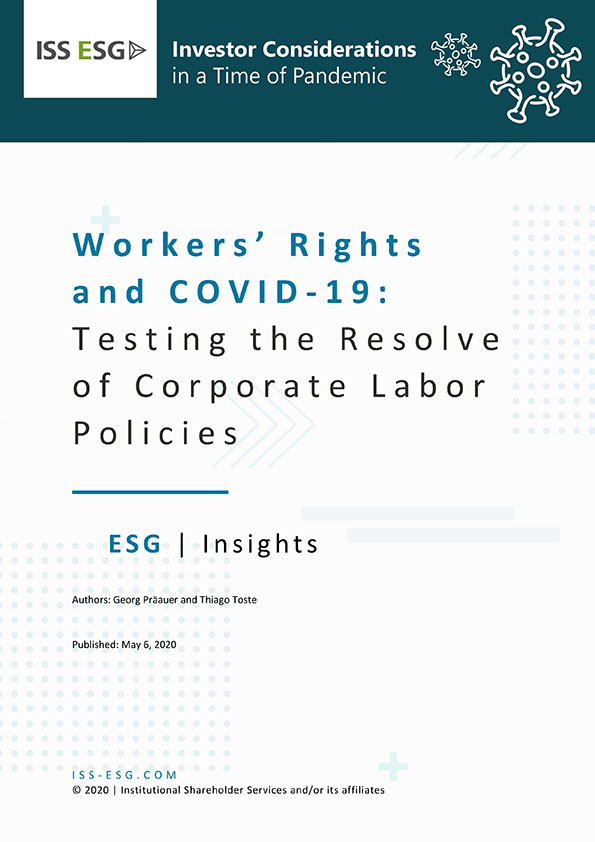 Worker's Rights and COVID-19: Testing the Resolve of Corporate Labor Policies
MAY 6, 2020
Global commitments under the Sustainable Development Goals (SDGs) to achieve full, productive employment and decent work are being shaken by the economic recession caused by the pandemic. The International Labour Organization (ILO) estimates that nearly half of the global workforce is at risk of losing their livelihood.
The pandemic is proving to be a tenacious stress test for companies' stated labor policies, and an unfortunate accelerant to pre-existing trends towards precarious work.
Fundamental labor and human rights, cornerstones of responsible business conduct, guide businesses in mitigating the impacts of the pandemic on society and the economy, and in supporting recovery. Expert organizations have now issued focused recommendations.
ISS ESG data finds an uptick in corporate commitments to minimize the impacts of the pandemic. Investors may deem it beneficial to encourage portfolio companies to act on these commitments as needed.