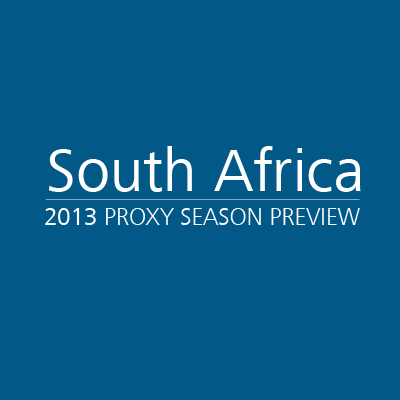 Brief
The fourth quarter traditionally represents the voting season for South African companies. However, recent years have had busy periods at other times. Many December year-end companies hold their annual general meetings the following May.
There have been no major changes to the governance landscape in the last 12 months. However, recent developments include clarification by the Johannesburg Stock Exchange (JSE) of the treatment of governance issues within its Listings Requirements.
In response to pushback from some major investors in South African companies, the Institute of Directors in Southern Africa has defended a situation whereby executive directors do not stand for regular reelection by shareholders. Attempts by some companies to adopt such an approach in late 2012 encountered opposition from shareholders.
A practice note on applying King III recommendations on executive pay includes some useful guidance for remuneration committees but also contains some suggestions which may not have widespread investor support. For example, the practice note seeks to legitimise the retesting of share scheme performance conditions in certain circumstances.