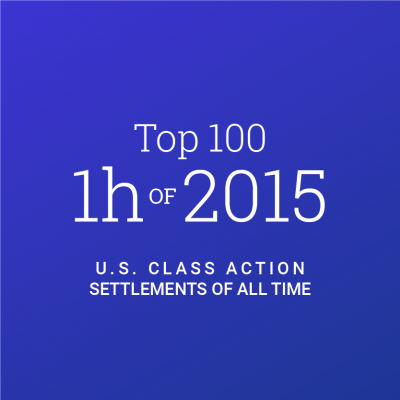 Brief
ISS Securities Class Action Services tracked 61 settlements for the first half of 2015, up from from 53 settlements seen duringthe first half of 2014. Out of the 61 settlement agreements, five settlements ranked in the ISS Securities Class Action Services Top 100 for 1H 2015, which amounted for a 450 percent increase in settlement funds when compared to the same period in the previous year. The cases identified include:
American International Group, Inc. (2008) (S.D.N.Y.), which brought the highest settlement fund($900 million for approximately 200 eligible securities)
Bear Stearns Mortgage Pass-Through Certificates
IndyMac Mortgage Pass-Through Certificates (Individual & Underwriter Defendants)
Activision Blizzard, Inc.
Federal National Mortgage Association (Fannie Mae) (2008)
Out of the five settlements, four were filed in the federal courts during the midst of the financial credit crisis, while one was filed in the state court relating to the company's private sale transaction. Two of the five were alleged violating Rule 10b-5 of the Securities and Exchange Act of 1934 (Employment of Manipulative and Deceptive Practices) while three were alleged violations of the Securities Act of 1933 (Civil Liabilities on Account of False Registration Statement). Two of the five settlements relate to Generally Accepted Accounting Principles and have restated their financial during the relevant periods. Of the five settlements, two were identified in the S&P Index.
One SEC initiated settlement placed in the Top 30 SEC Disgorgement amounting to $200 Million.
The Securities Class Action Services Tentative Settlement Pipeline stands $17.3 Billion as of 31 July 2015.