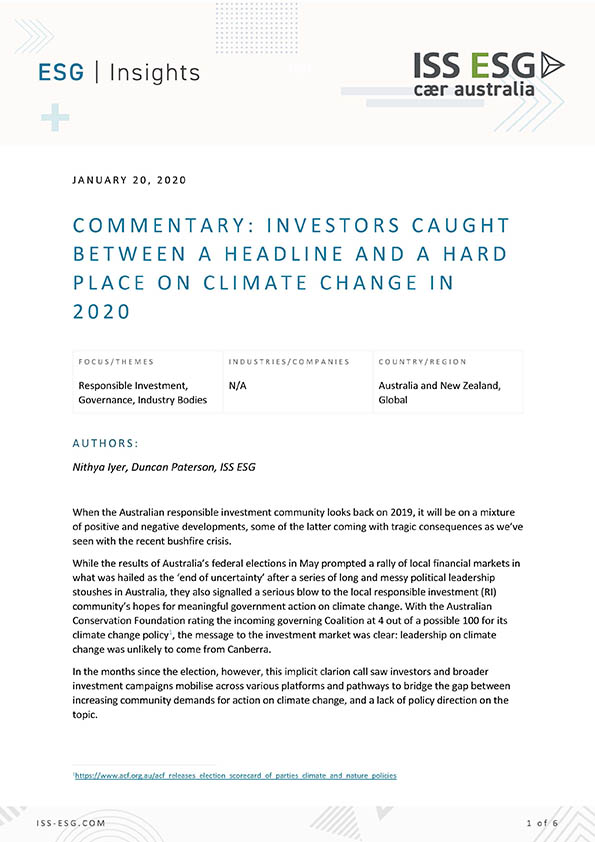 Investors Caught Between a Headline and a Hard Place on Climate Change in 2020
JANUARY 20, 2020
When the Australian responsible investment community looks back on 2019, it will be on a mixture of positive and negative developments, some of the latter coming with tragic consequences as we've seen with the recent bushfire crisis.
While the results of Australia's federal elections in May prompted a rally of local financial markets in what was hailed as the 'end of uncertainty' after a series of long and messy political leadership stoushes in Australia, they also signalled a serious blow to the local responsible investment (RI) community's hopes for meaningful government action on climate change. With the Australian Conservation Foundation rating the incoming governing Coalition at 4 out of a possible 100 for its climate change policy, the message to the investment market was clear: leadership on climate change was unlikely to come from Canberra.
In the months since the election, however, this implicit clarion call saw investors and broader investment campaigns mobilise across various platforms and pathways to bridge the gap between increasing community demands for action on climate change, and a lack of policy direction on the topic.