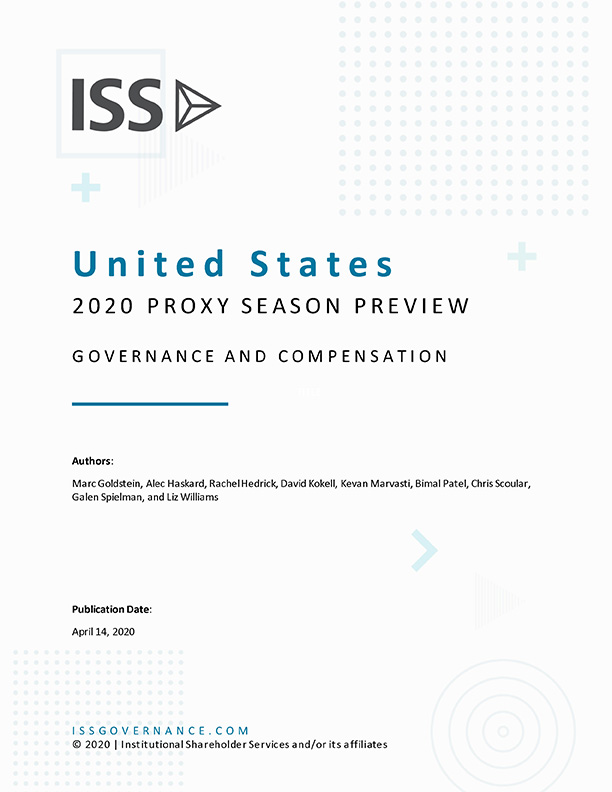 2020 U.S. Proxy Season Preview – Governance & Compensation
MAY 8, 2020
Companies switch to virtual shareholder meetings after SEC gives the go-ahead: Following SEC guidance stating that companies wishing to switch to a "virtual-only" meeting format would not need to refile their proxy statements, and in line with orders in many states to restrict public gatherings to protect the public health, a large proportion of U.S. companies have announced that their 2020 annual meetings will be held exclusively as virtual meetings.
Investor scrutiny of corporate governance practices at newly public companies expected to
continue in 2020: The trend of more IPOs with dual-class share structures with unequal voting rights appears likely to continue, particularly in the technology sector, and investor scrutiny is expected to also increase. Firms with dual-class structures are also more likely to have other problematic governance issues such as a lack of board gender diversity.
Board responsiveness to investors' concerns and payments in connection with executive transitions
expected to remain key issues in 2020: The 2019 proxy season saw a record number of low say-on-pay vote outcomes. As a result, the 2020 proxy season is expected to feature more companies dedicating proxy disclosure to explaining engagement efforts and actions taken to address investor concerns. Investors are expected to continue to scrutinize the appropriateness of severance packages, particularly when disclosure suggests a voluntary resignation.