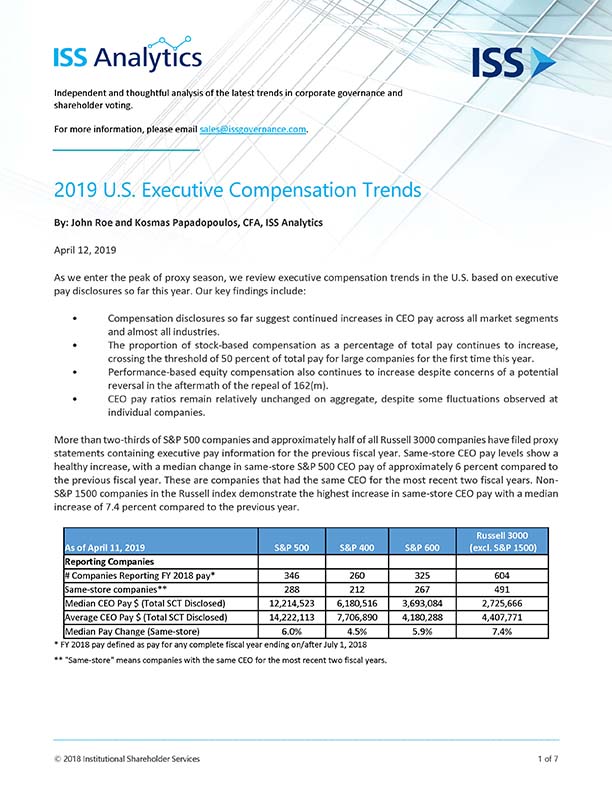 2019 U.S. Executive Compensation Trends
APRIL 12,  2019
As we enter the peak of proxy season, we review executive compensation trends in the U.S. based on executive pay disclosures so far this year. Our key findings include:
Compensation disclosures so far suggest continued increases in CEO pay across all market segments and almost all industries.
The proportion of stock-based compensation as a percentage of total pay continues to increase, crossing the threshold of 50 percent of total pay for large companies for the first time this year.
Performance-based equity compensation also continues to increase despite concerns of a potential reversal in the aftermath of the repeal of 162(m).
CEO pay ratios remain relatively unchanged on aggregate, despite some fluctuations observed at individual companies.
More than two-thirds of S&P 500 companies and approximately half of all Russell 3000 companies have filed proxy statements containing executive pay information for the previous fiscal year. Same-store CEO pay levels show a healthy increase, with a median change in same-store S&P 500 CEO pay of approximately 6 percent compared to the previous fiscal year. These are companies that had the same CEO for the most recent two fiscal years. Non-S&P 1500 companies in the Russell index demonstrate the highest increase in same-store CEO pay with a median increase of 7.4 percent compared to the previous year.